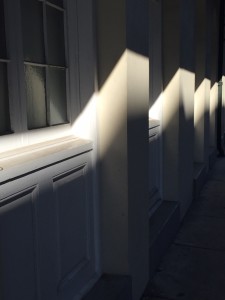 ©IBKimage2016
In November of 2016 I spent the weekend in New Orleans to participate in a surprise 70th birthday event for a dear friend of 42 years. Having arrived a day early, and settled at the Auld Sweet Olive Bed and Breakfast ,I ventured out with a map. I was in a residential neighborhood called Faubourg Marigny, which, along with my inn, an 1830's creole house, was a plethora of colorful residential historic homes of the "artsy" variety.The instructions  by my host were simple: out the door and to the left, and another left and right and I would find my way to  the French Market area; out the door and to the right several parks and other areas of interest.  All went well on day one .
The next morning I explored in greater depth and made my left, left, right and then  saw a sign indicating that a foot bridge was ahead and where there's a bridge there's usually water, so straight ahead. Hours later I looked at my map and turned away from the beautiful urban park along the Mississippi River and found the street to return "home". I  realized that I'd made a mistake and started asking people if I was headed in the right direction.  Some said yes, others no idea; it was getting dark and my feet were hurting.  I approached an  older woman who was standing on the sidewalk.  "Excuse me, could you tell me if I'm heading in the right direction to get back to …?"  She looked at my map, put her hand on my shoulder and with a  lovely southern accent proclaimed:  "Well my dear, you've walked yourself  right off of your own map."  She told me that it would take "at least an hour" but I would get there by following the path I was on . "Once you cross the railroad track, you'll be just about home" she called after me.
Today's image was taken on a side street near the French Quarter away from the crowds and for just a second on a cloudy day, as I looked back at where I had come to …"off of my map", I was rewarded with light.  🙂 May your "off the map" exploration assist you in seeing new opportunities in whatever stage of transition you might be in, wherever you are.
IBK